Total Hip Replacement Surgery
Hip pain may be caused by a variety of factors. The most common factors for hip pain include bursitis,arthritis, muscle strains, Injuries or nerve irritations. Thai Medical offers total integrative medical solutions to eliminate your pain permanently and for a price you can afford. We offer several Orthopedic joint surgeries including:
Shoulder Replacement Surgery
Ankle Injury repair and replacement surgery
Wrist surgery
Whether you've just begun exploring your treatment options or have already spoken with orthopedic specialists back in your home home to undergo complete hip replacement or Hip resurfacing procedure, we can help you better understand the costs, benefits and limitations of having total hip replacement surgery in Thailand
Artificial Hip Surgery Video
A pain in the rear end indeed, Hip Arthritis is a painful disease that slowly wears down the delicate cartilage and cells in your ball & socket joints near the top of the femur (leg bones) and the pelvis area. This wear-and-tear causes two bones to grind against each other. Bone on bone rubbing. Soon after the joint start becoming pitted,brittle, eroded often resulting in severe pain,debilitating stiffness, and complete instability.Often the range of motion is reduced tremendously.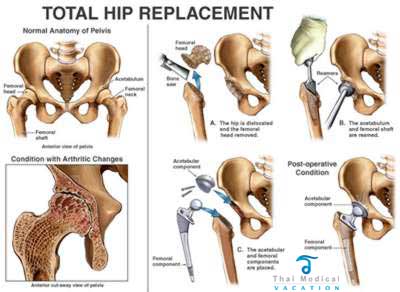 Hip Arthoplasty
Traditional Hip Replacement "THR" is also known as Hip Arthroplasty. This surgical option is ideal for the treatment of moderate to severe Hip Arthritis. Total hip replacement surgery using artificial implants can help to completely remove the two worn down or damaged areas of your hip socket & joint (acetabulum) and the femoral head  (ball) by replacing them with artificial hip implants called "prostheses", that make your hips strong,flexible and stable once again.
For those active folks younger than 55 in need of THR there may be a good chance that the prosthetic replacement will wear out in the next 20 years therefore might need to be resurfaced or replaced yet again. For some less severe patients there are alternatives to hip replacement surgery such as resurfacing or orthopedic stem cell therapy that are used to regrow cartilage and help eliminate the pain of bone on bone wear and tear. A second replacement (called a revision surgery) and is much more difficult the second time around so a surgical option is Hip Resurfacing.
Hip Joint Resurfacing vs Replacement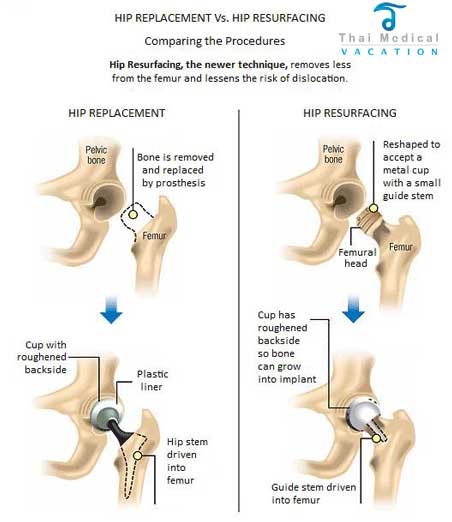 Hip Joint Surgery in Thailand Overview
Complete artificial hip replacement takes about two hours per side. Surgery is usually performed under GA general anesthesia or even spinal anesthesia. During the replacement procedure our Thai board certified orthopedic surgeon will carefully remove the diseased and damaged areas of your hipbone and replacing it with an artificial hip-joint. Physical therapy and rehab are usually started soon after the surgery and will continue throughout the 2-4 night hospitalization. Rehab and physical therapy should be followed consistently for at least a year after your surgery.