Hip Replacement in Thailand
Hip pain may be caused by a variety of factors. The most common factors for hip pain include bursitis,arthritis, muscle strains, Injuries or nerve irritations. Thai Medical offer 360 degree integrative solutions to eliminate your pain permanently and for a price you can afford. TMV offers Orthopedic joint surgery solutions including knee replacement in Thailand & any Hip related injuries or pain. Whether you've just begun exploring your treatment options or have already spoken with orthopedic specialists back in your home home to undergo complete hip replacement or Hip resurfacing surgery, the following information will help you better understand the benefits and limitations of total hip replacement surgery in Thailand
Affordable Hip Surgery in Bangkok and Phuket
A pain in the rear end indeed, Hip Arthritis is a painful disease that slowly wears down the delicate cartilage and cells in your ball & socket joints near the top of the femur (leg bones) and the pelvis area. This wear-and-tear causes two bones to grind against each other. Bone on bone rubbing. Soon after the joint start becoming pitted,brittle, eroded often resulting in severe pain,debilitating stiffness, and complete instability.Often the range of motion is reduced tremendously.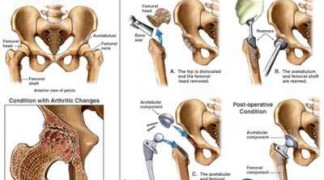 Total Hip Replacement Hip Arthroplasty Surgery in Thailand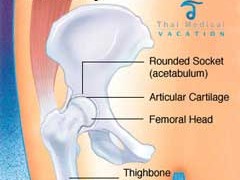 Normal Hips vs Abnormal Hips
Hip Replacement Surgery & Hip Arthoplasty
Traditional Total Hip Replacement or Hip Arthroplasty is an established treatment protocol for the surgical treatment of moderate to severe Hip Arthritis. Total hip replacement surgery in Bangkok or Phuket helps to completely remove the two worn down damaged areas of your hip socket & joint (acetabulum) and the femoral head  (ball) by replacing them with artificial hip implants called "prostheses", that make your hips strong,flexible and stable once again.
For those active folks younger than 55 in need of total hip replacement there may be a good chance that the hip replacements will wear out in the next 20 years therefore might need to be resurfaced or replaced yet again. Alternative regeneration based treatments like stem cell orthopedic care are helping solve that issue today. A second replacement (called a revision surgery) and is much more difficult the second time around so a surgical option is Hip Resurfacing in Thailand.
Orthopedic Hip Resurfacing Comparison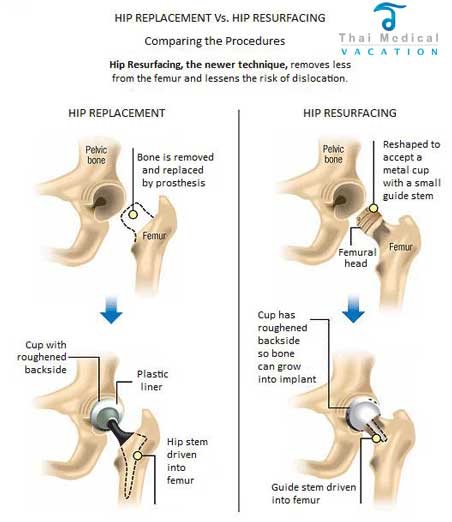 Hip Surgery in Thailand Overview
Complete artificial hip replacement surgery in Thailand about to two hours. Surgery is usually performed under GA general anesthesia or even spinal anesthesia. During the replacement procedure the Thai Orthopaedic surgeons will carefully remove the diseased and damaged areas of your hipbone and replacing it with an artificial hip-joint. Physical therapy and rehab are usually started immediately after the hip surgery and will continue throughout the hospitalization. Rehab and PT should be followed consistently for at least a year after your surgery.
Arthroscopic Hip Surgery in Bangkok or Phuket
Immediate Pain-Relief is usually the greatest advantage and primary reason for total hip replacement surgery. The reason people have for replacing the hip joints include: extreme pain from severe arthritis or old injuries in the hip areas that severely limit a person's ability to a normal active lifestyle, bone fractures in some elderly clients, usually near the neck of your femur (leg) bone, and the occasional occurrence of joint and hip tumors.
Complications & Risks of Hip Replacement Surgery
Complications and Risks are inherent with all surgery. Risks associated with hip replacement surgery include respiratory or cardiac malfunctions and anesthesia complications. Other complications of surgery may include:
•    Infections that require hospitalization or antibiotics
•    Deep vein thrombosis and Blood clots that may dislodge and move
•    Injury to blood vessels and/or nerves
•    Dislocation or fracture of new joints may require additional surgeries
•    Occasional stiffness & instability of the joints due to extra bone growths
•    Urine Retentions and/or bladder infections
Risks can be reduced by following the surgeon's pre and post surgery instructions before and after hip replacement in Thailand surgery. Over extended time and normal wear and tear, the artificial joints may become loose requiring revision hip resurfacing or another Hip Replacement Surgery.
For a great animated video of an actual hip replacement surgery please watch the following Hip Replacement video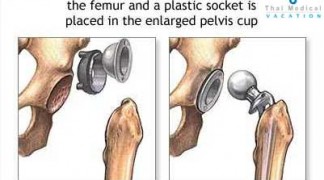 Hip Replacement Surgery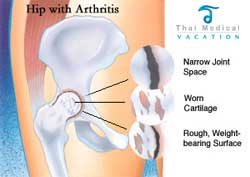 Arthritic Hip Replacement Surgery Candidates
Not everyone makes for a good candidate for having hip replacement surgery. Potential candidates for having Hip Arthroplasty surgery in Bangkok or Phuket will need to be evaluated to determine the degree of current disability and any pre-existing medical conditions. The Thai Orthopedic surgeon will make the final determination of each patient's eligibility for the procedure after a face to face consultation and examination of your medical records including X-rays, CT Scans,and MRI's.
 Orthopedic Hip Surgeries in Thailand
•    Thailand is an internationally recognized for excellence in orthopedic surgeries including artificial hip replacement surgery, artificial knee replacement in Thailand and Hip resurfacing surgery.
•    The accredited board certified orthopedic surgeons we recommend are board certified, internationally recognized doctors who have all performed  thousands of successful  hip replacement operations in Thailand during the past 20 years.
Hip Replacement Prices in Thailand
The estimated prices for having hip replacement surgery in Thailand will depend on your specific needs but the costs are approximately $6,200-$9,500 dollars per hip,depending on materials used including all medical related Thai hospital charges and 3-7 nights stay in a single room for recovery, and all doctors' fees and of no taxes.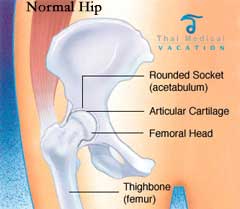 Normal Hips Before and After Replacement Surgery
Non-Cemented Prosthesis Hip Replacements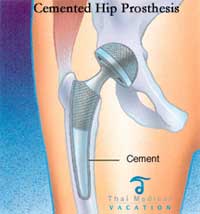 Cemented Prosthesis Surgical Hip Replacements in Bangkok
Hip Replacement Alternatives in Thailand
Thai Medical Vacation specializes in surgical and non-surgical orthopedic treatments using the most cutting edge integrative regenerative medicines utilizing a variety of techniques such as stem cell therapy for Arthritis,  stem cell therapies (including bone marrow, Adipose stem cell therapy,cord blood and placenta stem cells and dental pulp stem cells) for a non-surgical knee replacements. Our GMP approved adult stem cell treatment solutions can be used for many types of common and rare orthopedic needs like stem cell knee repair and stem cell hip repair.  These conditions run the entire spectrum from simple tennis elbow, to severe degenerative arthritis. The vast majority of orthopedic aliments usually lie somewhere in between those two scenarios. Medical conditions like rotator cuff injury and enthesopathy,spinal trigger points, herniated discs and a whole host of ligamentous/meniscal injuries affecting the knees, ankles, and hips.  These are all treatable conditions today  using a variety of non-surgical stem cell regenerative therapy utilizing your own Adult stem cells. Contact us if you are interested in an alternative solution to having Hip replacement surgery in Thailand.
Thai Medical Orthopedic Hip Replacement Surgery Package in Thailand includes:
LIVE teleconference option with your orthopedic doctor before you arrive
Customized medical information about the Thai hospitals, doctors, treatments and prices
We can arrange all hotels, flights,Thai medical visas, and rehab options in Bangkok,Phuket,Samui,Pattaya or Chiang Mai.
Door to door medical service with an English-speaking assistant and Translator or liaison
Logistics for followups and after care
We also coordinate requests and questions including follow-ups with your surgeons once you return home.
Thai Medical firmly believes that open communication, confidence and mutual trust and vital to ensure you have a successful medical vacation to Thailand. We also encourage our clients to ask ALL questions they have to complete satisfaction. We also welcome the opportunity to help you make the most well informed decision about surgery when you consider having artificial hip replacement surgery in Thailand.
"The Journey of a Thousand Miles Starts with a Single Step"