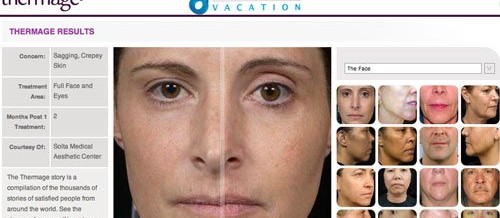 Thermage CPT in Thailand
Everyone wants tight radiant skin, some people prefer dramatic results via surgery while others want a more gradual, natural looking result via natural or  non-invasive treatment such as the Laser Thermage Facelift that offers little or no downtime.
Thousands of medical tourists are choosing Thermage Skin Treatment in Thailand.The Thermage Laser in Thailand is an exciting new non-surgical procedure that offers an innovative way to rejuvenate your skin and especially face..All without any surgery!  Thermarge involves the application of radio frequency energy to your face. The RF energy then strategically heats your collagen and composes your skin. In response to the targeted heat, the loose,disorganized and weak collagen will be forced to tighten,strengthen and also become more organized. This reaction translates into a much firmer,younger-looking skin and all without any surgery. The non-invasive cosmetic surgery in Thailand treatment is so easy that you can get have the procedure on your lunch break and quickly return to your normal work, family and/or other activities.
What Are The Benefits of Having Thermage CPT Skin Treatment in Thailand?
Having Thermage in Thailand will Help You Achieve:
Much Tighter skin
Noticeably Higher eyebrows
Much Softer nasolabial creases (especially nose & mouth)
Get Tighter skin below your chin
Softer scowl lines
Reduction in crow's feet
Improving your jowls and jawline
Much Softer forehead lines
Reduced acne & softening of acne scars
Share