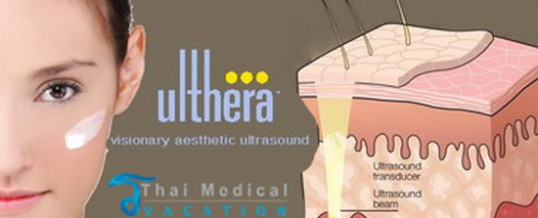 Ulthera is considered on of the best non-surgical "lifting" skin lasers in the World. Ulthera is also referred to as Ultherapy in Thailand. Ulthera works its magic via Focused Ultrasound lasers at various skin levels to instantly improve facial skin tone, tightening, cellulite reduction or fat removal. 

Only the Ultherapy System in Thailand allows the dermatologists and skin doctors to see below the skin area and target the problem areas with accuracy. This accuracy also helps ensures a very safe and reliable outcome for hundreds of men and women coming to Thailand for a short holiday.
Ultherapy Thailand Video
Ultrasound Skin Lasers in Bangkok
The Ulthera Skin laser in Bangkok are the first of its kind in Thailand and enables our approved Thai physicians to easily look into your pores and skin structure to deliver focused ultrasound energy beams that help provide a lift without the need for any invasive surgeries. From droopy eyes to mouth lines to cheek fat, Ulthera treats it all and without any downtime making for a very effective and short medical vacation to Thailand. Don't settle for a traditional surgical facelift until you try Ultherapy in Thailand. The Ultherapy is 100% non-surgical solution for tight, toned skin in just a few hours.
Ultherapy in Thailand is a perfect choice for you if you are experiencing:
• Flattening around the mid cheek area
• Very Loose skin around eyes or neck (turkey neck)
• Nasolabial folds around your mouth
• Marionette lines on your chin
• Loss of visible Jawline
• Loosened Jowls
• Down-turned mouth area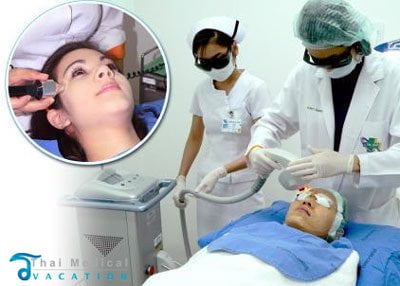 Ultherapy Facelift Treatment in Thailand
The highly trained Ulthera Trained doctors in Bangkok start by placing the custom Ulthera applicator attachment to your face or neck area. This custom facial applicator allows our doctors to clearly see the underlying skin and tissue using a sonograms. After the problems areas have been clearly identified, the doctors will use concentrated heat energy below your skin's surface to begin the regeneration process. The heating process is painless. Your bodies natural response to this heat beam is stimulation of collagen. This collagen production is the secret behind the Ulthera treatment in Thailand. Collagen growth is what causes the gradual skin tightening that results in a new taught skin thus earning it the nickname of the "natural lift."  Over the course of a few weeks, the weak collagen in your skin is supplemented with the new produced collagen to help contract and lift your facial,arm and neck skin.
Share