Hair Transplants in Thailand

Miss visiting your favorite barber shop?
Are you looking for an cost-effective,easy,cost-effective and scar-free way to naturally restoring your hair in a minimally invasive way?
Look No More!
Thai Medical and its list of approved Hair doctors in Bangkok and Phuket have been pushing the limits of modern medicine to get the best results for hair transplants in Thailand.
FT better known as follicular transfer is an internationally accepted accredited hair restoration technique for complete hair loss treatment in Thailand. FT delivers very natural and nearly undetectable results with minimum downtime for our international clients from Australia,Switzerland,Norway,Canada and United Kingdom (to name a few) visiting Bangkok,Phuket,Chiang Mai or Pattaya for pleasure or business. Thai Medical understands that your busy schedules can make screening qualified Thai hair specialists difficult so we make the process as simple as possible.
NeoGraft and FUE
Thailand is considered the worlds most advanced medical tourism treatments provider for many areas including stem cell hair regeneration , hair transplants and natural hair restoration in Thailand. Our pre-approved Hair experts are all internationally trained experts in the latest hair and follicle restoration technologies to ensure Thai Medical  clients will all benefit from the getting the best treatments solutions from the best doctors at the best prices using only the safest medical technologies and equipments to restore your hair 100% naturally.The hair transplants in Bangkok and Phuket are performed by the top plastic surgeons in Thailand, who have all performed tens of thousands of successful hair restoration surgeries and hair transplants in Thailand over the last 25 years.
What Class Hairloss Are You?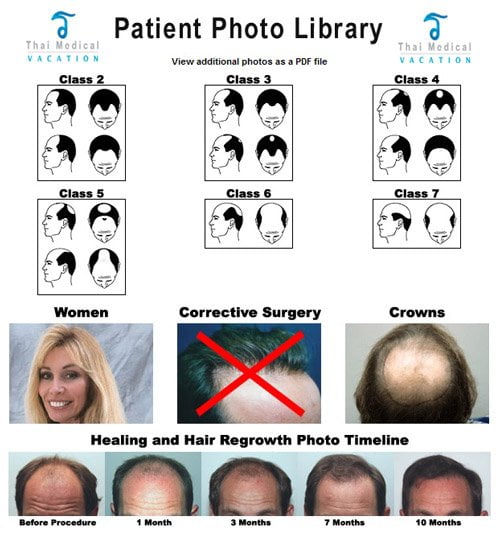 Hair Follicle Regeneration Therapy
Bangkok Thailand has been one of the primary destinations for affordable hair transplants. The hair restoration doctors will use your hair donation sites to get