Safe Buttock Enhancements in Thailand
In the same way that women can choose to increase their breast sizes through traditional breast augmentation surgery, or the new and all-natural stem cell breast enhancement for better chest proportions and size, our clients feel the sizes or shapes of their buns are just inadequate for their liking. We know how frustrating diet and exercising is when it comes to shaping the butt area. For some women, no matter how much they diet or exercise the shape never reaches the look they desired. We offer surgical and minimally invasive ways to enhance the buttocks with the very popular Brazilian Butt Lift ( Bangkok Only) . Our patients have all loved having butt lift surgery with Thai Medical and often update us that their clothes are fitting much better, and their overall confidence levels is through the roof thanks to a much fuller, shaped derriere
A buttock enhancement surgery is a very common plastic surgery  and can be performed alone or combined with complimenting treatments such as:
Imagine having a total body makeover in the privacy of an amazing Thai paradise. Your butt enhancement surgery will help to improve the oval contour of your butt and also makes them look  'perkier' and more pronounced.
Butt lift Options and Prices:
– A Buttock augmentation can performed by removing any excess skin on the butt region and then carefully tightening the upper skin region of your butt that will help lift your butt to a newly desired position.
– Butt lifts can also be achieved with stem cell enriched fat injections, cell assisted lipotransfer or Butt implants. The less effective but affordable option is the traditional fat infusions, commonly referred to as fat lipotransfers. The newer more effective Butt enhancement surgery is known as the stem cell butt lift or stem cell assisted fat lipotransfer to the butt.  . can instantly and permanently give your rear more lift, projection and/or shape.
Please Note that We strongly advise against surgical butt implants if your office/work environment  requires excessive sitting work (Over 8-10 hours a day). After surgery, the doctors will advise you not to sit directly on your reshaped butt for at least a few days to avoid any unneeded  stress to the operated areas and during your recovery.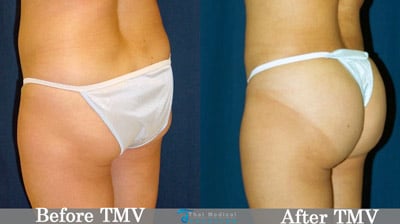 Surgical Butt Lifts vs Liposuction
If your butt area is already robust, you can benefit from having simple minimally invasive buttsculpting liposuction such as BodyTite or VASER Lipo to reduce the size and shape the size of your buttocks. If however you have a smaller rear end but would like a larger more robust butt with more projection, then you may be better suited for stem cell enhanced fat lipotransfer or butt implants. Our Butt Implants 100% Genuine with Certificate of Authenticity and are imported directly from manufacturers in the USA. Gluteal Implants come in a variety of shapes and sizes will easily fill out your rump to lift your butt to where you like it.
Butt Implants Vs Stem Cell Enhanced Fat Transfers
If your butt area is already begun sagging a bit and you are slightly older in age then a surgical lift will probably be most appropriate. A surgical butt lift is performed by removing fat tissue followed by the tightening of the surrounding skin. The tissue in your buttocks is normally excised/cut near the butt crease to give a natural look with minimal scars. This amazing new technique leaves an unnoticeable scar near your buttocks crease.
Surgery Overview
A surgical Gluteal augmentations is usually performed under general anaesthesia. For Non-Surgical and Assisted Fat Transfers, Local anesthesia may be sufficient. A small ellipse of your fat and skin will be removed from the upper areas of your butt to ensure that you get the safest results with the least amount of scarring even when wearing a swimsuit. Our skilled butt lift surgeons provide a relatively painless micro-surgical procedure and is often performed on an outpatient basis (no overnight needed). Some larger more complex surgeries may require 1 or 2 night stay at one of our JCI accredited International hospitals.
 Before and After Pictures
Length of Stay Required
The minimum time needed for your Butt augmentation will really depend on if you want surgical or non-surgical butt augmentation.For Surgical Butt lifts and Butt Augmentations we recommend a 7-10 night medical vacation.
Stem Cell Enriched Brazilian Butt Lift
The stem cell buttock enhancement procedure uses your own adipose fat and stem cells to augment your buttocks in the most natural way possible. The procedure works by using a special mini-liposuction device ( that does not destroy stem cells ) to extract a few hundred cc of fat (from the abdominal or thighs areas only). 
The fat + stem cells are then processed in our lab to separate the fat from the stem cells. The stem cells are then cultured and purified to create potent mesenchymal cells that are recombined with the fat along with growth factors into a very dense and nutrient filled containers that are then strategically re-injected into several doze areas around the buttocks to create the desired volume and shape. This unique method allows for double the retention of traditional fat transfers (without enriched stem cells) The result of our stem cell + fat infusions lead to a much more perky & sensual butt profile. 
Please note Enriched stem cell fat lipotransfers aka Stem Cell But Lifts require fat from specific areas only. Women with low BMI will not qualify. Also, Stem Cell enriched treatments are not available at any hospital facility in Thailand. Stem cell enriched therapies can however be performed in our licensed private medical clinic in Bangkok. This treatment is also not available in Phuket.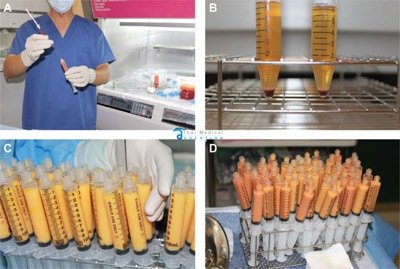 Recovery Time
Most patients will require 7-10 night in Bangkok to allow for proper followups and aftercare. To get the best results possible we recommend preparing yourself with the following guidelines:
Stay off your butt as much as possible for 2-3 weeks. That means no sitting directly on the butt and sleeping on your stomach
A compression garment will be provided and must be worn 24 hours a day for the first 14 days
To ensure the best most longest lasting results, avoid any unnecessary physical activities for atleast 2-3 weeks post op. Swelling is normal for up to 6 weeks and normal activities can commence 3-4 weeks after surgery. More detailed instructions will be after your review is complete and well before your surgery date.
Cost of Butt Rejuvenation in Thailand
Please note that Butt lift surgery and Stem cell enriched butt lifts are not appropriate for all patients. To qualify for treatment and get fixed "No-Hassle" prices and promotions, our doctors will need to review you basic medical history and images. The review is complimentary and can be done online. The final treatment plan and package price will include: total medical costs including doctors fees, anesthesia fees, stem cell expansion costs,operating room fees,1 compression garment and all postoperative checkups.
To get started or to learn more please contact us today.
"Shape your Dreams into Reality with Thai Medical"