Non-Surgical CoolSculpting Liposuction in Bangkok
UPDATED March 30, 2018 – CoolSculpting by Zeltiq (Zel ′teek) is the best non-invasive and non-surgical liposuction we offer in Thailand. The FDA approved "freeze lipo" is used for the quick and painless reduction of stubborn unwanted fat cells and an alternative to weight loss surgery.  Our Certified CoolSculpting Doctors in Bangkok utilizes a FDA approved and patented system called Cryolipolysis. It's also called the Freeze Liposuction in the US and Europe due to the use of precisely controlled freezing to destroy any fat cells. Cool-Sculpting was mainly designed to target only the fat cells under the skin and and not to harm other blood vessels and tissues nearby. The procedure is 100% non-surgical and non-invasive and there is absolutely ZERO downtime after the procedure.
CoolSculpting Video
[jwplayer mediaid="7471″]
Coolsculpting procedure works by targeting fat cells beneath your skin without incisions to gradually destroy fat and pass the waste through your bodies normal metabolic waste cycle. The results with Coolsculpt Lipo are gradual and the fat bulges take about two to four months to finalize. The Genuine Coolsculpting PRO Procedure is currently only available in Bangkok, Thailand and not currently offered in Phuket. Coolsculpting is also referred to as the "Lunch Time Lipo" because it allows a person to return to normal activities the same day as treatment. Slight redness may form in the treated areas that can last a few hours to a day or two. Some localized bruising may also occur but will automatically clear within a few days. Some clients have also reported temporary dulling sensation in the areas treated lasting a few weeks.
Does Coolsculpting Work?
Large applicator on the Zeltiq machine acts like a vacuum to draw your fat and skin tissue between the "freezing" cooling panels.
Clients may feel a very cold sensation in treatment areas. This sensation should goes away in a few minutes.
Clients typically are in a seated position on a chair (reading magazines, listen to music, work on iPad or laptop, or simply relax) during the actual Freeze Lipo procedure.
The Coolsculpting Lipo treatment is very comfortable for most patients and the treatment is usually 1 hour per area with a maximum of 4-5 areas per day.
Special prep work is not required (no need for fasting 8 hours previous) for Coolsculpt Liposuction; general/topical anesthesia or pain medications are also not usually needed.
Am I A Candidate for Freeze Lipo?
Ideal candidates for Cool-sculpting in Thailand are looking to eliminate areas of fat such as tummy,love handles (flanks), and/or back area and thighs. The CoolSculpt Freeze Lipo device or Thermage are however not intended for large amounts of weightloss nor is it a substitute for minimally invasive liposuction procedures like VASER, BodyTite RFAL Lipo or Smart Lipo. Coolsculpting is also not effective for treatments of conditions like gynecomastia or tuberous breasts. These minimally invasive alternative will require sutures but are designed for quicker results that remove larger volumes of fat. A good candidate for Zeltiq should be healthy, fit and only have modest-size bulges of fat.
Before After Pictures Coolsculpting Lipo in Thailand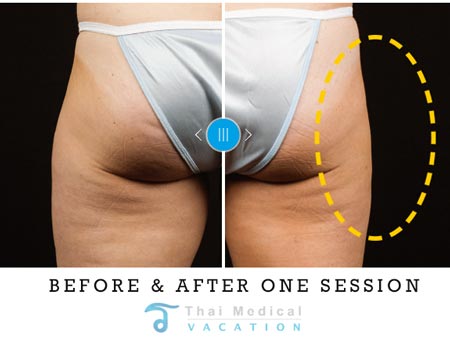 ****Please Note That We Only Use Genuine Coolsculpting Machines manufactured by ZELTIQ Aesthetics, Inc in the United States.  Always request proof of GENUINE equipment as many places also offer Low Prices OEM Non-Original "Cool Lipo" Devices that will not deliver the same results.
RESHAPE YOUR BODY IN BANGKOK
If you are looking for a safe and effective alternative to surgical liposuction look no further. Now you can target multiple areas on your body with our new CoolSculpting Lipo that delivers results without any downtime. Genuine Zeltiq is the #1 Fat freezing procedure in Siam and only available from Thai Medical.

Prices for Coolsculpting in Bangkok
The cost of having Genuine coolsculpting will depend on the total areas being treated with significant discounts offered for multiple areas. To pre-qualify for treatment or for group discounts and multi-area discount prices please contact us for a complimentary online consultation.
Mutual trust, good communication and confidence in the doctor are necessary parts to a successful medical holiday. We encourage all our clients to ask as many questions as you need and promise take the time to answer them completely thoroughly and to your satisfaction. Contact us today.
"Shape your Dreams into Reality with Thai Medical"