Total Hip Replacement Surgery
UPDATED April 04, 2018 – Hip pain may be caused by a variety of factors. The most common factors for hip pain include bursitis,arthritis, muscle strains, Injuries or nerve irritations. Thai Medical offers total integrative medical solutions to eliminate your pain permanently and for a price you can afford. We offer several Orthopedic joint surgeries including:
Shoulder Replacement Surgery
Ankle Injury repair and replacement surgery
Whether you've just begun exploring your treatment options or have already spoken with orthopedic specialists back in your home home to undergo complete hip replacement or Hip resurfacing procedure, we can help you better understand the costs, benefits and limitations of having total artificial hip replacement surgery.
Artificial Hip Surgery Video
[jwplayer player="3″ mediaid="10899″]
A pain in the rear end indeed, Hip Arthritis is a painful disease that slowly wears down the delicate cartilage and cells in your ball & socket joints near the top of the femur (leg bones) and the pelvis area. This wear-and-tear causes two bones to grind against each other. Bone on bone rubbing. Soon after the joint start becoming pitted,brittle, eroded often resulting in severe pain, debilitating stiffness, and complete instability.Often the range of motion is reduced tremendously.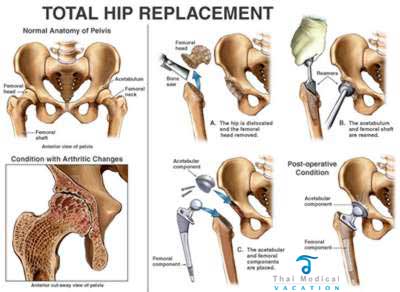 Hip Arthoplasty
Traditional Hip Replacement "THR" or Hip Arthroplasty is a surgical option is ideal for the treatment of moderate to severe Hip Arthritis. Surgical Hip replacements using artificial implants can help to completely remove the two worn down or damaged areas of your hip socket & joint (acetabulum) and the femoral head  (ball) by replacing them with artificial hip implants called "prostheses", that make your hips strong,flexible and stable once again.
For those active folks younger than 55 in need of THR there may be a good chance that the prosthetic replacement will wear out in the next 20 years therefore might need to be resurfaced or replaced yet again. For some less severe patients there are alternatives to hip replacement surgery such as resurfacing or orthopedic stem cell therapy that are used to regrow cartilage and help eliminate the pain of bone on bone wear and tear. A second replacement (called a revision surgery) and is much more difficult the second time around so a surgical option is Hip Resurfacing.
Hip Joint Resurfacing vs Replacement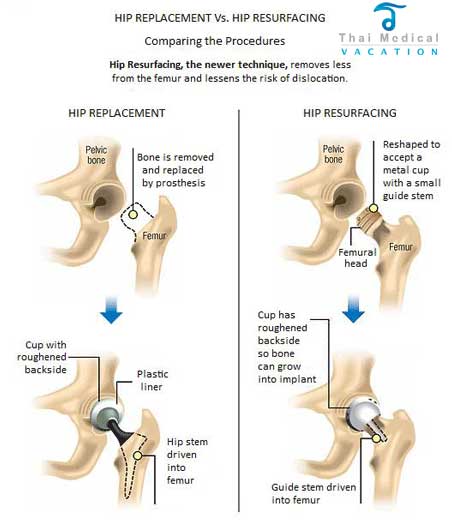 Hip Joint Surgery & Makoplasty in Thailand Overview
Complete artificial hip replacement takes about two hours per side. Surgery is usually performed under GA general anesthesia or even spinal anesthesia. During the replacement procedure our Thai board certified orthopedic surgeon will carefully remove the diseased and damaged areas of your hipbone and replacing it with an artificial hip-joint. Physical therapy and rehab are usually started soon after the surgery and will continue throughout the 2-4 night hospitalization. Rehab and physical therapy should be followed consistently for at least a year after your surgery.

Immediate Pain-Relief is usually the greatest advantage and primary reason for THR The reason people have for replacing the hip joints include: extreme pain from severe arthritis or old injuries in the hip areas that severely limit a person's ability to a normal active lifestyle, bone fractures in some elderly clients, usually near the neck of your femur (leg) bone, and the occasional occurrence of joint and hip tumors.
Complications & Risks of Having Total Hip Replacement Surgery
Complications and Risks are inherent with all surgery. Risks associated with artificial hip surgery include respiratory or cardiac malfunctions and anesthesia complications. Other complications of surgery may include:
•    Infections that require hospitalization or antibiotics
•    Deep vein thrombosis and Blood clots that may dislodge and move
•    Injury to blood vessels and/or nerves
•    Dislocation or fracture of new joints may require additional surgeries
•    Occasional stiffness & instability of the joints due to extra bone growths
•    Urine Retentions and/or bladder infections
Risks can be reduced by following the surgeon's pre and post surgery instructions before and after hip surgery. Over extended time and normal wear and tear, the artificial joints may become loose requiring revision hip resurfacing or another surgery.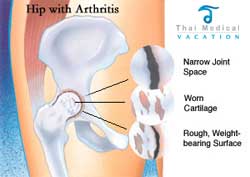 Arthritic Hip Surgery Candidates
Not everyone makes for a good candidate for having hip replacement surgery. Potential candidates for having Hip Arthroplasty surgery in Bangkok or Phuket will need to be evaluated to determine the degree of current disability and any pre-existing medical conditions. The Thai Orthopedic surgeon will make the final determination of each patient's eligibility for the procedure after a face to face consultation and examination of your medical records including X-rays, CT Scans,and MRI's.
Advantages of Internationally Trained Orthopedic Surgeons
Thailand is recognized as one of the top destinations for high quality and affordable orthopedic surgeries including artificial hip replacement surgery, artificial knee replacements and Hip Joint resurfacing surgery. Our accredited board certified orthopedic surgeons have all performed thousands of successful  hip replacement operations during over the past 20 years making Bangkok the ideal destination for you to eliminate the pain once and for all. Our Implants are all genuine with certification and warranties from companies such as: Zimmer,DePuy, Biomet and other high standard implants.
Testimonials from Patients Who Had THR in Thailand
I was diagnosed with severe hip osteoarthritis in 2011. Since then the pain had gotten significantly worse until i got fed up and chose to have surgery. Thailand was not initially part of my plans but after speaking contacting a few hospitals there i know i would be in good hands. I decided on Thai Medical because they were the most professional out of all the places i contacted. They answered all my questions and offered me a great package. I flew to Thailand and had my hip joints replaced 3 days after landing in Bangkok. The recovery took about 1 week and i can tell you now that it really was the best decision I could have made. I have no more sharp pains,my flexibility is returning and there were zero complications after the surgery. I was able to get back to back about 6 weeks after surgery. I wish i could have stayed longer in Thailand for my rehabilitation because the facilities and staff were extremely cordial and respectful of my condition. Trust goes along way in my book and i just wanted to take a second to thank your medical team again for taking care of me during my weakest moment. The entire experience was great and i recommend anyone considering having surgery to go take a Thai medical vacation –Nelson Dunne – New Zealand

I started looking around for a reputable place to have my total hip-replacement surgery done. Going to Thailand wasn't really part of my plans but from the minute i contacted Thai Medical i knew i was in the right place. Bangkok seemed to be an ideal destination from Los Angeles especially considering how much money i saved. I got a very prompt and detailed response from the staff, and they were able review my medical needs and schedule me for surgery a month after i contacted them. Honestly, the price savings was a huge factor for me, but i also wanted to find a good reputable doctor who knows what they are doing. Dr Preecha was an excellent choice for my hip arthroplasty surgery and the results are better than i ever expected. I can now walk on my own to the grocery store and play with my grandkids. Thank you again so much for all your care! –Steven C. Friedman – Redondo Beach,CA

I`m 55 years old and had my left hip replacement about 8 months ago. Before I went to Thailand, i felt constant pain and hated getting out of bed or standing up from a seated position. I had the reflexes of a hundred year old person and felt like I'm 90 years old. What made matters worse was my doctors telling me my surgery in Australia would require a 1 year wait otherwise the out of pocket costs would be over $60,000 dollars. This was completely out of my price range which is when i contacted Thai Medical. The surgery and 2 week holiday cost me a total of around $9650 dollars including airfare. The trip was a total success thanks to you and your medical teal. I just wanted to take a minute and contact you to let you know how happy i am thanks to your teams help. I feel a thousand times better now after having my hip therapy in Thailand. I can bed down completely and even signed up for swim classes once a week. My pain is gone and i feel i have my life back again–Charlotte Rokito – Perth,Australia

Hi guys, I just want to say thank you for all your efforts during my recent trip to Bangkok for Stem Cell hip regeneration. The attention to detail and care by you and all the doctors and staff were all very impressive. I'll be back in Bangkok for a check up soon. –Charles M, Sydney

I went to Thailand for total hip replacement surgery with stem cell therapy about 4 months ago. The first thing i notices was the immediate relief from pain. I was constantly feeling discomfort but my doctors in Dublin did nothing but prescribe be pain medications to hide the issue. I finally took a friends advice and started looking at alternative treatments. I found Thai Medical online and contacted them to get a quote. A month later i was on a plane to Bangkok to have surgery. The surgery and rehab took about 5 days in Total. My rehab began immediately after surgery and i think i quit using my walking cane about one month after surgery. I am thrilled to say that i can walk normally now. I can even climb stairs,go to the store,drive my car and get changed without any assistance. The best part is that I don't experience the kinds of agonising pains that I had before my surgery. Needless to say that I'm very pleased with my results. Moreover, Thai Medical and their doctors and medical facilities were fantastic and everyone there was very helpful and kind throughout my entire trip.–Thomas K – Ireland

We really felt hopeless for a while and I was really hoping the the stem cell treatment would somehow stop the involuntary movements. Allen could not control his movement, which made it difficult for him to sit still. Thank for the entire Thai Medical staff for being there for us and helping us get through the treatment process. Your honesty and dedication will not be soon forgotten.–Linda A, Australia

TMV recommended an amazing doctor and team that were always very attentive to my needs. I especially appreciated the doctor answering all my questions in a understanding and nurturing way. I m thrilled with my results–Alexi,New Zealand
Pictures of Our Medical Facilities 
Precise Fittings for Optimal Results
Pre-Preparation for Surgery
Standard Recovery Room
14 Days after Surgery
Full Rehabilitation On-Site
Get the Results You Deserve
Cost of Having Hip Replacement Surgery with Thai Medical
The costs for having hip replacement surgery will depend on the patient's exact needs and requirements. Ideally hip replacement surgery  is reserved for patients with severely damaged joints. We typically recommend exploring surgical alternatives if possible. To get current prices for having total hip replacement using artificial prosthesis our hip surgeons will need to review your recent medical records such as digital imaging ie MRI scans. Surgery will require a minimum of 2-3 weeks in Thailand and will include around 4 night stay with full time nurse.
THR Surgery Alternatives
Thai Medical Tourism specials for degenerative hips provide minimally invasive surgical and non-surgical orthopedic treatments using the most cutting edge integrative regenerative medical techniques such for treatment of Arthritis or hand and wrists injuries, using stem cells. Our GMP approved adult stem cell treatments  can be used for many types of common sports injuries or orthopedic conditions such as knee and hip damage. Other regenerative therapies include treatment for conditions such as:
Rotator cuff injury
Enthesopathy
Spinal trigger points
Herniated discs
Various ligamentous or meniscal injuries affecting the knees, ankles, and hips.
These degenerative conditions are all treatable safely using a variety of non-surgical regenerative therapies. To learn more about about having hip replacement surgery in Thailand please contact us today.
"Shape your Dreams into Reality with Thai Medical"