Tuberous Breast Correction to Fix Asymmetry
Tuberous breasts are congenital deformities wherein the breasts have failed to undergo full development.  The main characteristic of this particular condition is the considerably different appearance of the breasts, as they exhibit a long and narrow form as opposed to the typical rounded or pear shape.  The skin underneath the nipple is usually tight and areolas are mostly enlarged.  There are cases wherein the areola and nipple area sticks out.
The etiology of this condition is unknown, and cases may range from mild conditions to severely deformed breasts.  Nevertheless, with several breast corrective procedures available today, the condition can be corrected through enhancement surgery.
The Procedure
Tubular breast correction is a fairly standard breast augmentation procedure that requires you to be placed under general anesthesia.  At the minimum, the procedure can be generally be carried out within two hours, but it could lengthen in cases wherein augmentation is part of the procedure and implants are to be integrated.
Our internationally accredited and board-certified Thai plastic surgeons have extensive experience with this rather unique condition to offer the best treatment possible.  Our surgeons will be required to create a tiny incision around the areola, after which, several incisions will be made within the breast tissues to let loose of the tightness a breast lift  using implants may be a better option for some depending on the patients needs.
Treating Asymmetry & Congenital Deformity with Fat Grafting
Although not a major augmentation procedure, fat grafting or CAL fat transfer to the Breasts are another treatment option that literally involves the transfer of fat from one body part (abdomen and/or thighs) to your breast.  The stem cells and Fat are extracted using our CAL safe Liposuction techniques then expanded our labs then eventually re-injected into your tuberous breasts in a strategic pattern to bring about the desired shape and size.
Post-Operative Care
Treatment for tuberous breast in Thailand will require a minimum of 7 nights in Bangkok. After your surgery, our doctors will place surgical dressings over the incision site, and provide a compression garment for the recovery process. Sutures are usually removed during your follow-up (~5-6 days after surgery) before you are medically cleared to return home.

PLEASE NOTE: Your activities will be restricted to light duties. Strenuous activities are strictly prohibited three weeks or a month after surgery.



Also, please note that it does take time for the breast tissue to expand and exhibit a natural look. Achieving the rounded form is not usually immediate, so you must be patient with the results to finalize. Many women also choose to have multiple treatments simultaneously such as Vaser Liposuction,Bodytite,butt lifts and CAL Facelifts and the additional treatments will not substantial additional time yet can provide you with a total body makeover in as little as 7-10 nights.  You would have to wait to appreciate the results as it transforms from its original long and narrow state to a normal-looking, rounded shape.
Before and After Photos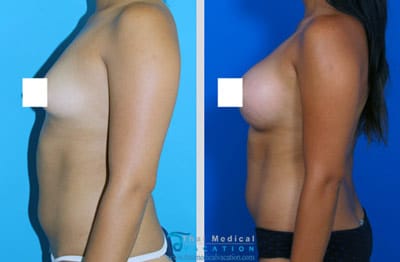 Request a Virtual Consultation
Tuberous boobs and congenital Breast deformities can be treated. If you are considering changing the shape of your breasts consider the extent or scope of practice of the plastic surgeon or treatment facility you are considering.  Thai Medical center, and our plastic surgeons have the training to back up their credentials to assure our patients of the best treatment options for their particular condition.  In the case of tuberous breasts, we have a team of highly skilled Thai plastic surgeons who have previous experience in corrective tuberous breast surgery and can help you make the best decision.
Although tuberous breast correction has not been deemed "medically necessary," by insurance companies, the esthetics and the psychological effects of not having "normal" breasts is reason alone to try to improve your appearance, as well as your self-esteem.
Stop waiting, contact our facility today so our experts can help you decide if coming to Thailand for surgery is right for you.