The nose area will be puffy and bruised after your surgery. The bruising can extend to your eyes and areas of the face. If there is additional discomforts after nose surgery, it can be lessened with pain medications given by your Thai surgeon. You will experience some bruising and swelling for  few days to a week after the nose surgery, especially around gentle tissue around the nose and eyes. Post-Nose surgery instructions include a cold pressure to better reduce swelling, elevating your head  24 hours and  pain medications to manage discomfort.
You may experience slight bleeding during first few days after nose surgery.  After the bruising and swelling subsides after the first few weeks, your new look will emerge. The results of Nose Surgery are permanent.
Ideal Candidates for Rhinoplasty
• Healthy Men And Women
• People over 18 years of Age
Risks of 

Surgery
All surgeries carry risk.  Be fully aware of all risks associated with nose augmentations before committing. Thai Medical helps you minimize risk of poor results by only working with the most qualified nose surgeons who have completed thousands of successful augmentation surgeries in the past. We encourage you to ask as many questions as needed to get comfortable with your trip to Thailand.
Cost of Rhinoplasty in Thailand:
The total cost of having rhinoplasty depends entirely on the technique required to achieve proper balance and symmetry to your face. To get fixed prices for your nosejob our doctors will need to conduct a virtual consultation using your recent photos. Our review process takes anywhere from 5-10 business days. Once the review is complete we will the specifics for your surgery such as technique used,total cost and length of stay required.
Before and After Thai Nosejob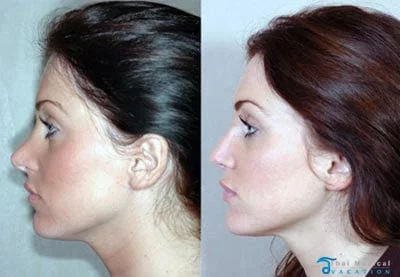 Nose Surgery Basics
Surgery Time : 1-3 hours total ( May be combined with other surgeries )
Anesthesia: General anesthesia or twilight anesthesia are most often used
Recommended Length: 6 -12 Nights ( Depending on the Technique Required )
Return Home: Generally 1 week after your nose surgery
Strenuous activities limited for: Atleast 2-3 weeks after your surgery
Final appearance Takes: 4 months to 9 months after surgery
Thai Medical is one of the most trusted healthcare providers in Thailand. Our network of specialists allows you access to a complete range of high-quality medical solutions including Nose augmentation and Rhinoplasty Surgery.  We have helped thousands of people just like you get the results they want without all the hassles. We are guided by our main philosophy of PATIENTS (YOU) FIRST. This means that YOU will be provided with honest impartial advice about the most qualified doctors, clinics and hospitals. For a complimentary, no-obligation quote and virtual consultation with one of our Rhinoplasty Surgeons in Thailand please contact us today.
"Shape your Dreams into Reality with Thai Medical"