Awards:
2006: Thailand's Brand 2006 by Department of Export Promotion, Ministry of Commerce, Thailand
2006-2008: Prime Minister's Export Award by Department of Export Promotion, Ministry of Commerce, Thailand
2007-2009: Trusted Brand Gold Award 2007 to 2009 from Reader Digest Magazine, Asia
Payment Options:
Cash
Bank Transfer
Personal Cheque
Visa
AMEX
Master Card
JCB
Insurance & Managed Care:
Allianz
Global Benefits Group,Inc.
Mercur Assistance
International SOS
First Assist
Medex
Noridian Administrative Services
LLC
AAP
Asia Assistance Partners
Vanbreda International
Primary Assist
Mondial Assistance
CIGNA
ROLAND
Phyathai Hospital 1 Images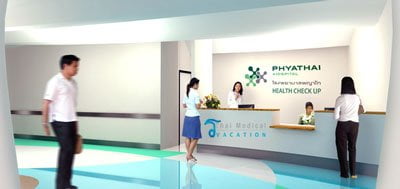 Phyathai Hospital Group's Services Overview and Summary
Technology:
Magnetic Resonance Imaging 3 Tesla (MRI 3 T)
Digital X-Rays
Ultrasound 4D
Digital Mammogram
Bone Density
CT 64 Slices
Echocardiogram
Exercise Stress Test(EST)
DSI
PACS System
C-Arm
Hospital Facilities:
Ambassador Shop & Restaurant
International Ward, Phyathai Service
Room Type & Facilities:
Platinum A
Platinum B
Platinum C
Gold A
Gold B
Silver A
ICU/CCU
Nursery New Born
Nursery Step Down
NICU
Dining & Restaurant:
Ambassador Shop & Restaurant
Au Bon Pain
S&P
Oishi
Squeeze
Food Center
7-Eleven
Phyathai Hospital 3 Doctors and Staff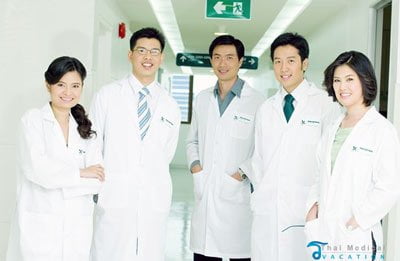 International Patient Service:
Phyathai Hospital's International Medical Center or IMC is set up to provides all areas of medical care, guaranteeing the best quality, reliable and safe services, offers complete attention to its treatment and services provideded that are of the superb standards, constantly with the patients' satisfaction in mind.
Phyathai Hospital's IMC doctors who provide medical solutions for international patients are specially trained in various specialties and sub-specialties, being highly experienced and widely known in their fields of interest, emphasizing upon having great communications between patients and doctors
International Relation Center (IRC)
International Correspondence Center (ICC)
International Relation Center (IRC) – Provides the following:
 Team of interpreters covering a large number of languages; English, Arabic, Chinese, German, Cambodian, French, Spanish, Burmese, Bangladeshi and Nepali.
 Complimentary transportation pick up & transfer from airport and/or hotel to hospital.
 Complimentary fast track service custom country entry at airport immigration point.
 Liaison service.
International Correspondence Center (ICC) –  Provides the following:
Assistance of all kinds of clinical inquiries.
Information on all aspects of hospital care and price estimation.
Clinical appointments arrangement.
Airport pick-ups as well as hotel reservation arrangement.
Phyathai Hospital Pictures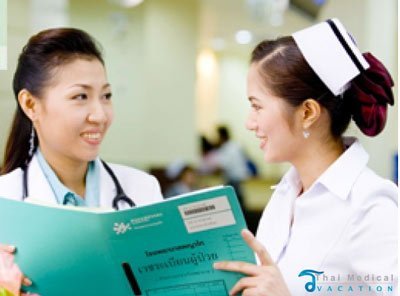 Phyathai Hospital Bangkok Thailand Specialties and Departments:
Minimal Invasive Neurosurgery Center:
Minimal Invasive Brain Surgery
Phyathai Hospital Mini Spine Center:
Microsurgery or Endoscopic Surgery with 8 millimeters incisions
Laser endoscopic spine surgery
Heart Center:
Women Center:
Gynecology
Ultrasound 4D
Digital Mammogram
Bone Densitometry
Thin-Pep PrepTest
Colposcope
Biopsy.
Infertility clinic
Artificial insemination
Gender selection on request
IVF
GIFT
ICSI
Blastocyst culture
Musculo-Skeletal Center:
Rehabilitation and Therapy
Navigate computer system assisting minimal invasive techniques
Gastro Intestinal & Endoscopy Center:
Diagnosis and treatments of digestive and gastrointestinal diseases.
The Phyathai Beauty Center (PBC):
Phayathai Thai Hospital Staff Video
[jwplayer mediaid="9735″]
Phyathai Hospital Dental Center:
Oral ulcer treatment
Plaque removal
Root canal treatment
Tooth Cleaning
Ceramic fillings
Periodontal treatment
Dental check-ups
Tooth coating orthodontic
Dental laser treatments
Cosmetic dentistry
Tooth Impaction removal
Tooth Removal
Phyathai Hospital One Stop Health Check up:
Oncology and Hematology Center:
Pediatrics Center:
Aging and vaccination programs for infants after delivery
Vaccination service and learning clinic by Pediatricians for children having difficulty in speaking or problems with behavior or physical development.
Internal Medicine Center:
Investigation and treatments for cancer patients and medical patients
Surgery Center:
Orthopedic surgery
Plastic and Cosmetic Surgery
General Surgery
Urology Surgery, Thoracic Surgery
Neurosurgery
Neurosurgery by Nasal Laparoscopy
For more information about Phyathai Hospital Bangkok and Phyathai Hospital Sriracha's promotions,treatments, rates and contact information, please Contact Us today.