Piyavate International Hospital Bangkok Thailand is a publicly-owned hospital and wellness care services facility in Thailand. Piyavate began serving clients in early 1993, the 27-story hospital on Rama 9 Roadway in Bangkok. Today, Piyavate hospital has developed the experience and prestige of it's health facility to reach 350 beds, and variety of specialized medical treatments and services.
The Piyavate healthcare mission is to keep each of it's centers of brilliance as a world leader in it's primary areas of medical expertise, such as womens health and cardiac care. The Piyavate medical facility can given it's patients from Thailand and around the globe with the most appropriate medical answers to their issues and very high quality results at an affordable price.
Piyavate Location Map
[google-map-v3 shortcodeid="3aed2d56c9″ width="650″ height="350″ zoom="12″ maptype="roadmap" mapalign="center" directionhint="false" language="default" poweredby="false" maptypecontrol="true" pancontrol="true" zoomcontrol="true" scalecontrol="true" streetviewcontrol="true" scrollwheelcontrol="false" draggable="true" tiltfourtyfive="false" enablegeolocationmarker="false" enablemarkerclustering="false" addmarkermashup="false" addmarkermashupbubble="false" bubbleautopan="true" distanceunits="miles" showbike="false" showtraffic="false" showpanoramio="false"]
 Languages support:
Thai
Arabic
Chinese
Burmese
Vietnamese
Japanese
English
Number of beds:
367 Beds in Total **Updated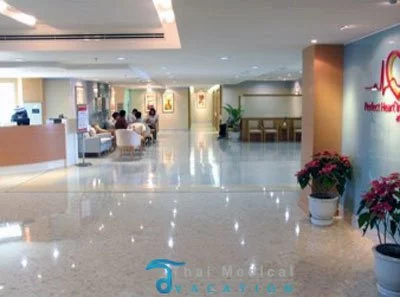 Hospital Accreditations:
Payment Options:
Cash
Bank Transfer
JCB
Master Card
AMEX
Personal Cheque
Visa
Hospital Pictures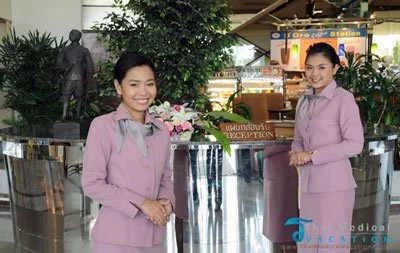 Room Type & Facilities :
10th Floor Inpatient Unit:
Standard Room
Additional Patient Bed
15th Floor Inpatient Unit:
Standard Room
Deluxe Room
VIP Suite
Additional Patient Bed
19th Floor Inpatient Unit:
Deluxe Room
VIP Room
Additional Patient Bed
21st Floor Inpatient Unit:
Silver Room
Gold Room
Additional Patient Bed
Intensive Care Unit (ICU):
Piyavate Hospital Video
[jwplayer mediaid="9753″]
Cardiac Care Unit (CCU):
Nursery NUR (Newborn)
NICU
NIR (Intermediate)
Private Room
Piyavate International Hospital Specialties / Departments:
Medical Check up Center
General Medicine Department
Ear Nose&Throat Center
Alimentary ane Liver Center
Perfect Heart Institute
Neuroscience Center
Aesthetic Surgery Institute
Eye Center
HEmodialysis Center
Bone&Joint Institute
Perfect Heart Fitness Center\Rehabilitation Center
LASIK Center
Emergency Services
Surgery Department
Oncology&Gene Therapy Center
Ideal Imaging Center
Pediatrics Department
Romrawin Clinic
Advanced Dental Institute
Treatments & Prices
Bone Spurs, Bone Disease & Infection:
Arthroscopic surgery
Spine surgery
Joint replacement
Cosmetic Surgery Piyavate Hospital Bangkok:
Otoplsaty
Botox Injection Mandibular Angle Resection
Penile Skin Inversion/Vaginal Plasty
Full Face Lift Eye surgery
Abdominoplasty (Tummy Tuck)
Cheek Reduction
Ear Pinning (Otoplasty) Hair traplantation
Mammoplasty
Breast Augmentation
Breast Lift
Penile Enhancement Facial Contouring
Augmentation Rhinoplasty (Silicone)
Breast Reduction / Reduction Mammoplasty / Male Breast Reduction (Gynecomastia)z, Breast Augmentation / Augmentation Mammoplasty Body Contouring
Nose Reconstruction
Jaw Contouring
Labiaplasty (Repair)
Hair Grafting Breast
Sigmoid Colon/Rectosigmoid Vaginoplasty/Rectosigmoid Colon
Aesthetic Revision
Facial Femininization Surgery (FFS)
Cheek bone contouring
Penile Enlargement
Rhinoplasty (Nose Reconstruction)
Lipoplasty
Forehead Lift
Chin Augmentation
Liposuction Female to Male Gluteal Implant (Silcone-Gel Filled Smooth and Textured Surface)
Forehead Lift
Total Nasal Surgery (Reduction)
Brow Lift and Body Contouring
Cheek Augmentation (Silicone)/Malar
Lip Augmentation (Fat Injection)
Lipoplastry (each extra point)
Mini Face Lift
Mastopexy
Penile Girth (Widening) Enhancement with Lengthening
Upper Eyelid Surgery
Augmentation Lip surgery
Gonioplasty
Tip Rhinoplasty
Breast Lift / Mastopexy
Fat Injection
Mini Face Lift
Nose Reconstruction
Lip Reduction
Upper Eyelid Surgery Rhinoplastry
Breast Reduction
Bilateral Orchiectomy (BO)
Ear surgery
Breast
Hair Transplantation
Lower Eyelid Surgery
Male to Female (MtF)
Lower Eyelid Surgery
Abdominoplasty
Mandibular Angle Resection Adam's Apple Contouring Body Contouring
Lip Enhancement (Fat Injection)
Labiaplasty (Repair)
Chin surgery Chin Shaving / Bone Contouring
Fat Injection (Minor)
Full Face Lift
Hospital Staff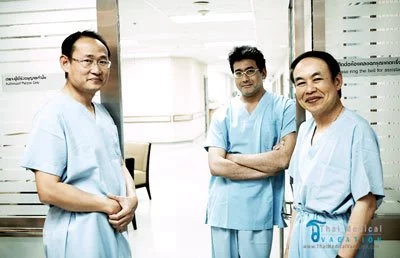 Neuroscience Center:
Brain and Nervous System Diseases
Oncology & Gene Therapy Center:
Gene Therapy
Eye Center:
Eye disease
Cataract Surgery
Eye surgery
Glaucoma Surgery
Medical check ups:
Rectal examination
Vaginal examination
Diabetes testing
Allergy testing
Genetic testing
Breast examination
DNA testing
Psychological testing
Prostate examination
Stress testing
STD testing
HIV testing
Blood testing
Paternity testing
Male physical examination
Cholesterol testing
Pelvic examination
Health assessment
Depression testing
Gyno examination
Early pregnancy testing
Female physical examination
Eye eexamination
Muscle testing
More Staff Pictures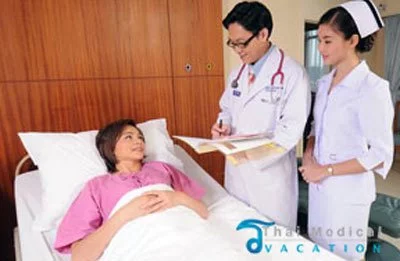 Alimentary and Liver treatments at Piyavate:
GERD: Gastroesophageal Reflux Diesease
Gallstones
Irritable Bowel Syndrome
Cholangio Carcinoma
Esophageal Cancer
Hepatitis
Colon Cancer
Cholangitis
Colitis
Pancreatitis
Alcoholic Liver Disease
Liver Cancer
Constipation
Gastroenteritis
Liver Cirrhosis
Peptic Ulcer
Stomach Cancer
Hemodialysis Center:
Ideal Imagine Center:
Surgery:
Endoscopic
Minimally Invasive Surgery
Laparoscopic
Urologic surgery
Pediatric center:
Child Brain Center
Development and Behavior Clinic such as Slow Development, Hyperactive Disorder,Autistics, and other behavioural problems
Nasal Disease Clinic such as Allergy,Asthma, and Snorer
General Medicine:
Headache
Rashness from drug and food allergy
Dengue Hemorrhagic Fever
Injection etc.
Tuberculosis
Influenza
Sore throat
Dizzy
Insect bites
Diabetes
Cough
Fever
Skin laser therapy
Sneeze
Blood diseases
Rheumatics
Vaccination
For more information about Piyavate Hospital Bangkok promotions, rates and contact information, please Contact Us today.