Bangkok Hospital in Pattaya Thailand is a tertiary hospital that belongs to the Bangkok Hospital Group.  This tertiary status signifies their expertise in providing specialized care and innovative treatments and techniques using advanced medical facilities.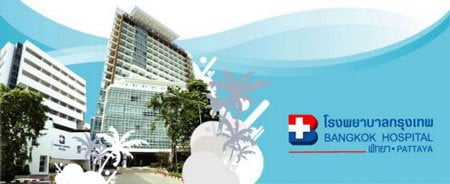 Specializations for BH in Pattaya
Bangkok Hospital in Pattaya is known for their proficiency in procedures for facial and cosmetic augmentations surgeries.  It is noted that they very much excel in procedures such as surgical facelifts, lip augmentation, hair transplants, rhinoplasty (nose reshaping) and blepharoplasty (eyelid surgery).  They are also known to provide quality cosmetic dental procedures such as dental implants, porcelain veneers or laminates, crowns and bridges, as well as endodontic therapy (root canal treatment).  They also offer traditional liposuction and breast augmentation are equally lauded as well.
Map to Pattaya Hospital
Recognitions and Awards
Having been in the hospital industry for more than two decades, the Bangkok Hospital of Pattaya has received recognition from the Hospital Accreditation Institute of Thailand in 2004, as well as an ISO 9001:2000 Certification in 2003.  Bangkok Hospital has also received the coveted Asian Hospital Management Awards for three consecutive years (2004 to 2006) and has now received accreditation from none other than the Joint Commission International or JCI in 2009.  Being recognized by the JCI denotes that they have passed the strict standards of this recognizing body as they continue to evaluate healthcare institutions that are able to provide excellent and quality treatment for their patients.
Bangkok Hospital Pattaya Video
[jwplayer config="bigscreen480640″ mediaid="10296″]
In 2003, Bangkok Hospital Pattaya was given the Prime Minister's Export Award, which commends the quality of healthcare that they are able to provide for their patients.  In that same year, another international award-giving body, Superbrands, recognized them for their services that are deemed at par with the best hospitals in the world.
Prices at Bangkok Pattaya Hospital
Of note is the extensive reach of their offices that are scattered around the globe.  They aim to reach out to patients who deserve the best treatment using only