Thailand has become on of the fastest growing destination for high quality medical treatments. The high standard of medical services a person can get in Bangkok is the same and often time better than the underfunded systems in Europe, America and Australia. What draws people to come to Bangkok for medical treatments is usually a combination of having great medical care even if you do not have alot of money. Bangkok International hospital is one of the better know general hospitals in Thailand.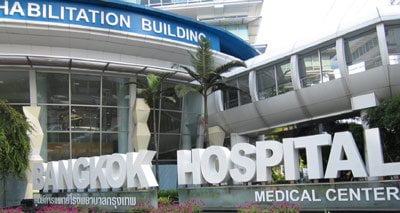 Bangkok Hospital Location Map & Directions
Located at New Phetchuri Road the private hospital is quite popular for locals and expats in the country looking for medical services. What sets this hospital apart from many others in the country is that it is accredited by the medical boards in America, Europe, Australia and Japan including the prestigious Joint Commission International.  Bangkok hospital opened its doors in 1972 by a team of dedicated doctors and pharmacists along with about 30 nurses. Currently, Bangkok hospital group is one of the single largest private hospitals in Asia, and has quickly grown to become one of the most reliable and advanced hospitals in the world.
More than just the impressive awards, this hospital puts a special emphasis on giving patients care and compassion on top of the high quality medical treatment a patient will receive.
Bangkok Hospital Video
[jwplayer mediaid="9618″]
Bangkok hospital boasts of the most advanced healthcare technology in the world today. Among the best equipment that can be found in the hospital are as follows:
 4D Ultrasound
Cardiovascular MRI Magnetic Resonance Imaging
Carto Sound Digital Catheter
256-slice Multi-detector CT Scan
Linear Accelerator
Guided MRI's (Intera Achieva 3.0T MRI)
3D CT Scans
Radiofrequency Ablation Therapy