A team of trained Thai specialists are working 24/7 to serve local and international patients with different types of medical conditions. Everyone working in the hospital is competent and knows how to cater to the needs of people.
There's is language support for Germans,Hindi, Japanese, Filipinos, Spanish and Japanese.
For patients coming from other countries, the hospital offers assistance in hotel accommodation and transportation. Most of the people coming for medical tours or dental tourism take advantage of the special Thai medical packages and programs including:
Dental Packages
Neurology Packages
Aviation Check-up Packages
Cardiac Care
Eye Surgery Packages
Obstetrics and Gynecology Packages
The hospital has many branches throughout the country. The maternity ward room has internet connection upon request along with several Hot Spots. There's also a library area where guests and visitors can spend time going over books or magazines in different languages. There's also daily newspaper available for free both in Thai and English. There are also a few different coffee stands and restaurants inside Bangkok hospital facility including: Starbucks,Au Bon Pain, S&P, De Bang and a 24 hours convenient store like 7/11.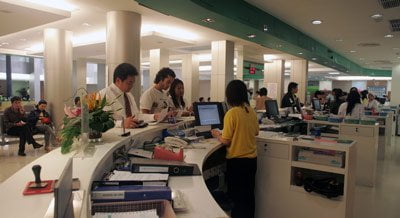 Bangkok Hospital is a Thai Medical Vacation partner. We are committed to bringing the best health care treatments in Asia to our clients, both local and domestic. Through our state of the inquiry and diagnosis system to complete 360 degree comprehensive medical care, our approved hospitals in Thailand are  just what you need to have a successful treatment and recovery process. If you are looking for medical treatments in Bangkok and need assistance in finding the most qualified doctors then please contact us today for more information.