UPDATED Feburay 9, 2018 – While most holiday makers try to stay out of hospitals while on vacation, a large number of tourists do the exact opposite as medical tourists. Medical tourists are normal everyday men and women who combine the excitement of international travel with medical care. Treatments can range from simple laser teeth whitening and bodytite liposuction to complex treatments such as hair restoration, cosmetic surgery, total artificial knee replacements, hip replacements, heart surgery and non-surgical stem cell therapies. From elective surgery to needed surgery,cosmetic, fertility to dental treatments, Thailand offers nearly every medical treatments available anywhere in the Best hospitals in the world.
More than 75% of all medical tourists worldwide travelled to Thailand, Singapore or India in 2015. Bangkok and Singapore are the leading destinations in South East Asia. The cost of accommodations such as hotel rooms and treatments are generally much more expensive in Singapore than Thailand,thus making Bangkok the most popular destination for medical tourists in the World. After a slight slowing in 2014 where 24.14 million visitors ( -6.35%), 2015 ended with a record high 29.35 MM visitors breaking the previous mark of 28 million tourists in 2013. That's nearly a 29% jump from 2012. Thai Medical research estimates that over 1,110,000 (3.7%) of those visitors came to Thailand and received medical care primarily in Bangkok, Phuket and Pattaya.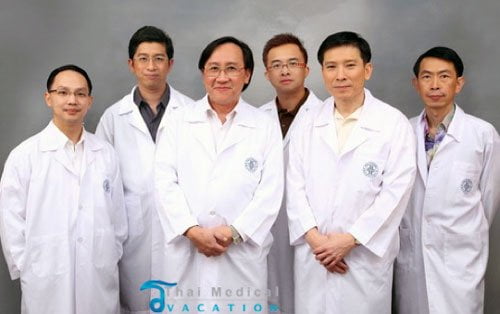 A recent survey by Thai Medical Research shows that there are about 0.6 doctors and 3.1 hospital beds for every 1000 people in Thailand in 2014. Measured in terms of PPP or purchasing power parity, each Thai resident is was estimated to have spent 13,847 Thai Baht or USD $411 on health care. Cumulatively, the spending amounted to 5.6% of the country's gross domestic product or GDP of Thailand. This amount spent on healthcare can be divided into two sections.
Public Sector vs Private Sector
Public sector expenditure in 2014 (51.5%)
Private sector expenditure 2014 (48.5%)
In comparison to our data, The WHO (World Health Organization) states that the Thai government's investment on healthcare in 2014 amounted to
Public sector expenditure in 2014 (56.5%)
Private sector expenditure 2014 (43.5%)
Medical tourism to Bangkok and Phuket Thailand has helped overhaul its entire healthcare system through their universal health coverage system that was adopted in early 2001. Thailand became the first non G-8 nation to implement such a comprehensive health care system overhaul. The UC or universal care system replaced the previously designed system primarily to help bring better access to the millions of lower income earners throughout the country.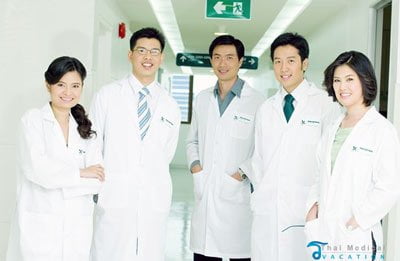 Best Doctors in Thailand
The making of an internationally renowned healthcare destination is very complex. Some of the primary factors include:
• Broad Industry wide commitment to international accreditations, quality assurance, and transparency of results and outcomes
• Consistent Adoption of International best practices with cutting-edge medical technologies
• Rich History of Healthcare Innovation and Achievement
• Joint Government and Private sector Investments in the Healthcare Infrastructure
• Reputation for specialty excellence
• Availability of internationally-trained and experienced medical personal
• Potential for cost savings
• Consistent International patient flow
• Ease of access to tourism infrastructure
Thailand's reputation for graceful and attentive service coupled with the rigors demands of western accreditation have helped play a vital role in building a positive international reputation and confidence in the Thai Medical System. According to a recent medical tourism marketing research report,  Samitivej Hospital Bangkok and Bumrungrad International Hospital were amongst the first Southeast Asia's recipients of the prestigious Joint Commission International (JCI) certification from the United States. The JCI seal of approval is seen as the gold standard for healthcare service providers around the globe. Today, Bangkok has no less than nine JCI-accredited hospitals for medical holiday makers to choose from. At last update (January 2018) ,Thailand has 51 JCI accredited and certified facilities. Other factors such as reasonably-priced hotel rooms and the Ultra-modern Suvarnabhumi Airport,reliable public transportation and quick 30-day visas for most nationalities upon arrival all help to make Thailand a preferred destination for visitors from Australia,North America and Europe.
Thailand Hospitals List 2018
The following list is a the most comprehensive directory listing of public and private hospitals in Thailand. Our research for this list was completed on October 2014, there are nearly 1,007 public hospitals, and 341 private hospitals that are currently registered with the Thai Public Health Ministry's Medical Registration Division located in Bangkok.
Update in Progress – Please Email for current availability
THAI MEDICAL TOURISM PROJECTIONS & FUTURE OUTLOOK
Overall, the long term prospects of Thailand's medical tourism industry look very promising thanks to the strong commitment by both government and private sector to provide unparalleled healthcare support, developed infrastructure and natural attractions. Our research shows that the expected number of foreign medical tourists to the country will increase rapidly over the next 5 to 10 years. These assumptions are fairly safe given normal business conditions with no political unrest in the near future and travelers' sustained confidence in the healthcare reputation of Thailand. The revenue from foreign patients is projected to grow to at an above average rate of 18-25% through 2018. For more a more complete Hospitals Thailand Rankings based on our patient experiences please contact us.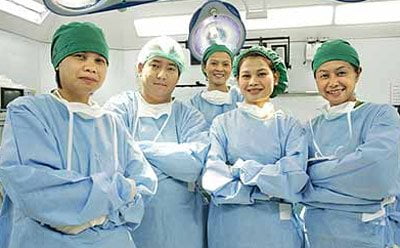 Our annual Thailand hospital reviews 2018 report is for informational purposes only. In the event that you contract an unforeseen illness, disease, or suffer from an accident during your holidays, it is important to know how and where to find medical assistance. In an effort to help you in your times of crisis we have provided the previous definitive list of all the hospitals in Thailand. Please note many regional and public hospitals are intended for citizens of Thailand. Languages will be limited to Thai speaking doctors and nurses only. Please also be advised that this information may change without notice and that you should consult an official representative for up to date details. For more information please contact us. No part of this article or any material appearing within may be reproduced, stored in or transmitted on any other Website without the express written permission of Thai Medical Co.Ltd. For Corrections,Additions or Requests to republish any material in this report may be sent to us via email or postal address.