BNH Nursing Hospital Bangkok
The BNH hospital in Bangkok was formerly  known as BNH International Hospital or Bangkok Nursing Home Hospital. BnH was established to provide nursing care for expatriates. The original hospital, was opened by the British Ambassador to Thailand in 1898, and was one of the first private hospitals in the Kingdom of Siam.
In 1990, the BNH Medical Centre was formed to establish a new international standard hospital to meet the demands of the increasing domestic and international market for privatized health care. The new BNH Hospital Bangkok complex became operational in 1996. Occupying the same two-acre site in Convent Road, it is surrounded by mature trees and tropical greenery, and is located between Silom Road and Sathorn Road, close to the business, financial and entertainment district of Bangkok, BnH can be easily accessed from all parts of the Bangkok by road, BTS Sky Train, MRT Metro Subway, from the Sala Daeng Station.
BNH Hospital provides the highest quality medical service with specialists and general practitioner doctors completely involved with their patients, from consultation and diagnosis, through to planning and executing treatment, following-up of results, and in surgical cases, post operative card. The concept of 'the Family Doctor' is still highly valued at the BNH Hospital
BnH Hospital Address and Map
[google-map-v3 shortcodeid="694ab24d82″ width="350″ height="350″ zoom="12″ maptype="roadmap" mapalign="center" directionhint="false" language="default" poweredby="false" maptypecontrol="true" pancontrol="true" zoomcontrol="true" scalecontrol="true" streetviewcontrol="true" scrollwheelcontrol="false" draggable="true" tiltfourtyfive="false" enablegeolocationmarker="false" enablemarkerclustering="false" addmarkermashup="false" addmarkermashupbubble="false" addmarkerlist="13.7264820,100.5350300{}hospital-building.png{}BnH Hospital Bangkok" bubbleautopan="true" distanceunits="miles" showbike="false" showtraffic="false" showpanoramio="false"]
Language support at BNH Hospital:
BNH Hospital has offices in:
Bangkok Thailand
Shanghai, China
Beijing China
BNH Hospital Awards & Accreditations:
Accreditation:
BNH Hospital Payment Options:
Bank Wires and Transfers
Cash
Personal Cheques
AMEX
Visa
Master Card
JCB
BNH Hospital Facilities & Services
Room Type & Facilities:
Room rates (Thai Baht)
Regent Thai/European Food
Ambassador Thai/European Food
President Thai/European Food
ICU Thai/European Food
BnH Nursing Hospital Video
[jwplayer mediaid="9695″]
BNH Hospital Medical Check up Services Specialties and Departments:
Check-up Centre
Dental Centre
Nutrition Clinic
Spine Centre
Firm Plus Clinic
Diabetes & Hormone Clinic
Pediatrics Department
International Travel Medicine Clinic (ITMC)
Emergency Department
Women's Health Centre (Obs & Gynecology)
Dermatology & Beauty Centre
Heart Centre
Shoulder & Joint Centre
Rehabilitation & Physical Therapy
Cololectal & Haemorrhoid Clinic
Internal Medicine
Opthalmology Department
Gastrointestinal & Liver Clinic
Bangkok IVF Centre
Ear Nose Throat
Community Relations Centre
Surgery & Orthopaedic Surgery
LUC Centre
BNH Hospital Treatments & Rates for the BnH Hospital IVF Center:
ICSI & ET (in-vitro fertilization, intra-cytoplasmic sperm injection & embryo transfer)
PESA or TESE (percutaneous sperm aspiriation or testicular sperm extraction) / PGD (preimplantation genetic diagnosis)
Artificial insemination of husband's sperm or donor's sperm
Conventional IVF & ET (in-vitro fertilization and embryo transfer)
IVF
BNH Hospital in Bkk Check-up Centers: BnH Cololectal & Haemorrhoid Clinic:
Bleeding after bowel movement
Painful swellings around the anus (abscesses)
Colon cancer
Pain
Constipation
Itching and burning sensations
Haemorrhoids
Painful lumps protruding outside the anus
BNH Hospital Images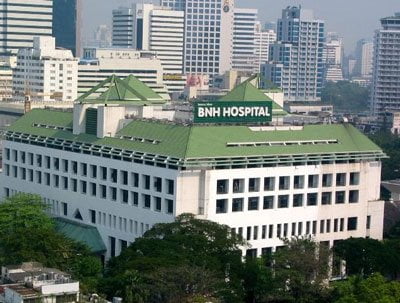 BnH Hospital Dental Clinic and Bangkok Dental Center:
Dental Digital Xrays
Pedodontics (Children)
General (Comprehensive Care)
Nitrous Oxide Relaxation
Snoring & Sleep Apnea / Oral Medicine
Porcelain Veneers

BnH Hospital Dental

Implants
Oral Examination & Consultation, Emergency
Oral & Maxillofacial Surgery
Restoration (Fillings, Inlays, Onlays)
General Anesthesia for Dental Treatment
Orthodontics (Braces & Invisalign)
Tooth Coloring and Ceramic Fillings
Prosthodontics (Crowns, Bridges, Dentures)
Endodontics (Root Canal)
Periodonics (Gum Disease)
Laser Teeth Whitening or Home Bleaching
Cosmetic Dentistry
Diagnosis & Treatment of TMD (Joint Dysfunction)
BnH Hospital Dermatology & Beauty Centre:
General Dermatology
Examination and consultation
Skin cancer check
BnH Hospital Plastic Surgery and Dermal surgery:
Chemical peeling
Skin biopsy Aesthetic surgery
Botox injection
Sclerotherapy for leg veins / Laser treatment
Excision
Carbon dioxide laser for removal of moles, warts, age spots and sunspots, Skin laser resurfacing for wrinkles, uneven skin and pitted scars
Tissue augmentation (filler injection)
Cryosurgery
BnH Hospital Systems – Multiple Applications: