BodyTite RFAL Liposuction in Thailand
BodyTite RFAL Liposculpting is a remarkable new minimally-invasive procedure that safely and quickly removes undesired fat cells while re-contouring the areas treated and at the same time firming your skin. The Patented BodyTite liposuction technique is revolutionizing the world of body sculpting and body enhancement surgeries for both men and women. Studies have proven that for some patients BodyTite can tightens your skin up to 35% more than the traditional liposuction techniques such as Vaser or Smart Laser Liposuction.
Our BodyTite Lipo Packages allows for Rapid and even heating of the external tissue and allows new levels of body contouring with very little bruising,pain and/or discomfort. This amazing new liposuction technology allows our RFAL trained cosmetic surgeons to achieve the benefits of minimally invasive liposuction while simultaneously using RF or radio frequency energy beams to heat connective tissues that causes unprecedented collagen production and contraction that causes the skin to tighten and shrink.

The use of RFAL or radiofrequency assisted liposuction results in much less trauma to your tissues which results in significantly less swelling, bruising,pain and discomfort.
What Does All This Mean For You?
This means our board certified Thai plastic surgeons can be aggressive on stubborn areas where the skin is loose because they know that BodyTite lipo in Thailand can create significant contraction in that loose skin once the fat is emptied especially in the abdomen,arms and inner thighs!
Imagine Getting 45%-60% more tightening
Significantly Less bruising means less down time during your medical vacation to Thailand.The bruising only lasts 4-7 days!
Fat melting via RFAL Bodytight liposuction is particularly effective in very fibrotic areas like men's chests ie gynecomastia (man breasts) or the love handles.
BodyTite Lipo Video Animation
[jwplayer mediaid="8263″]
Am I a candidate?
You may be a great candidate for Genuine Bodytite if you are in good health overall and have stubborn areas of excess fat that are resistant to all diet and exercise.
BMI Calculator
Supplied to Thai Medical
Why is BodyTite Lipo Different Than Traditional Lipo?
Traditional liposuction also known as Tumescent liposuction uses a larger cannula and invasive methods to suck the fat cells out. BodyTite lipo uses the same motion as tumescent liposuction but the fat removed in a much safer method by heating or emulsifying the fat which allows the suctioning of the body fat with much greater ease and significantly less trauma to all the surrounding tissues in the body. This very controlled method of heating (RFAL Lipo) also helps creates connective tissue and skin tightening that uphill now has been available to patients seeking liposuction.
How quickly will I see results from having Body Tite in Thailand?
Results can be seen immediately, with best results noticeable after 4-8 weeks
BodyTite vs SmartLipo vs Vaser
"Smart Liposuction is a laser assisted liposuction that does offer slightly more tightening than tumescent liposuction. When it was introduced a few years back Smart Lipo  was a real advancement in laser assisted liposuction. The problem unfortunately was that the laser fibers are not an efficient way to heat the underlying tissues and the current systems just do not allow the doctors the ability for simultaneous removal of the emulsified fat. Therefore the Smart Lipo procedure takes almost twice as long and its not nearly as effective as Body Tite in evenly heating all the connective tissues it targets. Early studies comparing the two popular techniques for reduction and  tightening show that BodyTite is nearly 3-4 times as effective as SmartLipo while taking half the time.
The Power and Advantages of tightening with Genuine BodyTite include:
•    Traditional Tumescent liposuction shows skin contractions of about 4-7%
•    Smart Laser Lipo shows skin contractions of nearly 9-16%
•    BodyTite Lipo has shows skin contractions of nearly 45-50%!
BodyTite Lipo in Bangkok Before and After Pictures


What areas can be treated With BodyTite?
Body Tite Lipo is only available in Bangkok can be used for the treatment of many areas including the hips,abdomen, buttocks,knees,inner
and outer thighs, upper arms,sides, back along with other areas of fat deposits such as male breasts,face, or neck. It can also be used in conjunction with other plastic surgeries for an effective full body makeover treatments.Areas and special attachments include:
TummyTite – Minimally-Invasive Tummy Tucks
NeckTite – Minimally-Invasive Neck Lift
FaceTite – Minimally-Invasive Face Liposuction
ArmTite – Arm Lifts
ButtTite – Bum Augmentation and Shaping
CelluTite – Reduction of Cellulite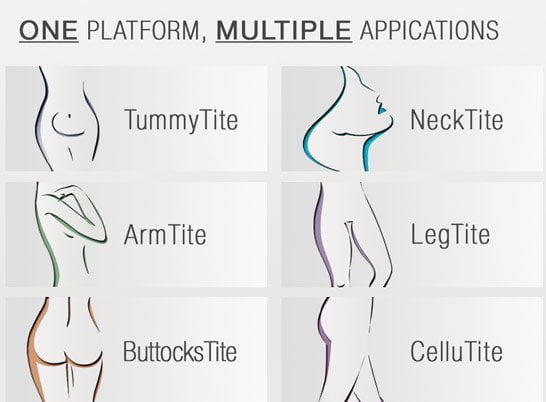 Recovery time Requirements
Visitors coming to Bangkok looking for HiDef BodyTite should plan on spending 6-9 nights here. This is a fairly new procedure on the market and is not available in Phuket or Pattaya at this time. BodyTite liposuction is considered minimally invasive and clients reported rapid reduction in swelling, bruising and only minor discomfort. Numbness will also wear off throughout the course of the day post surgery and clients may use prescribed pain medication and/or anti-inflammatory medications.
Thai Medical provides a post-surgical garment such as compression garment to help in the shaping and reduction or any swelling. Our clients reported feeling sore for the first few days. Patients can return to their regular routine immediately after returning home but should only resume high impact exercise once the pain and swelling have subsided.
RFAL Bodytite Lipo in Thailand trip will require a 1-2 Week Stay in Bangkok. After that time you can get back to your normal life and also enjoy an exciting trip to Amazing Thailand.
 Prices and Promotions | What Does BodyTite Cost?
The actual cost for having Genuine Bodytite in Bangkok will depend on the number of areas you are getting treated. Unfortunately, not everyone is a good candidate for this type of liposuction. Our Invasix Trained doctors will only suggest treatment options for patients who they believe will likely benefit from this revolutionary new treatment. Patients with Extremely High BMI (Body Mass Index or Bodyfat) may not be ideal candidates for Bodytite. To better understand your needs our doctors will need to conduct a virtual consultation before offering any treatment solutions and exact prices can be determined. All treatment prices are firm and fixed upon initial review. The treatment proposal will include discounted prices for multiple areas along with priority scheduling an optional hotel / transportation options to choose from.
Thai Medical Vacation is a trusted organization that will help you every step of the journey. our medical services team in Bangkok will seamlessly coordinate your entire trip using ONLY accredited Thai hospitals and the finest private cosmetic surgeons in Bangkok. We cal also offer assistance on other non-medical aspects of your medical holiday at no extra cost. TMV offers clients first class International standards while maintaining affordability.
For more details about having Bodytite lipo with Thai Medical please contact us today.
"Shape your Dreams into Reality with Thai Medical"