CAL Breast Enhancement Now in Thailand
Are you looking for a "Non-Surgical" & "No-Implant" or "Natural" Breast Enlargement? Thai Medical has the solution you are looking for. Cell Assisted Lipotransfer Or CAL are also known as the Stem Cell Breast Augmentation. Stemcell breast enlargement and Autologous Fat Grafting are very basic in nature. The treatment works its wonders by simply using your own enriched "Adipose" stem cells and tummy fat to create breast volume permanently!  CAL Breast enlargement is most sophisticated modern technique ever created for creating natural breast tissue volume and shape.
Stem Cell Breast Enlargement Video
The breasts are a big part of any woman's body and self-image. Any chest defects or disfigurements can be a devastating experience for any woman. That is precisely why "CAL" or Cell Assisted Lipotransfer was originally invented.  
History of "CAL"  Cell Assisted Lipotransfer

The Cell Assisted Breast Augmentation technique was discovered in early 2006 by a Japanese Doctor named Kotaro Yoshimaru. The technique was developed and perfected as a result of Dr Kotaro and his clinical trials for survivors of women who were recovering from the horror of breast cancer via a single or double mastectomies  (removal of breast tissue) that stopped the underlying breast cancer from spreading. If a woman's self image and self-esteem could be simply restored through replacing what cancer took away prematurely, then it was science's duty to help them in any way possible. Today, assisted fat grafting is used for both medical and cosmetic reasons to augment the breasts in a safe and natural way.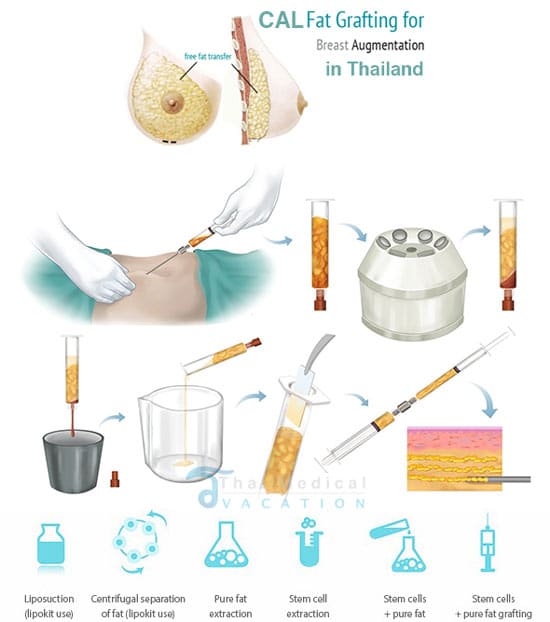 Autologous Breast Augmentation

The revolutionary new CAL breast enlargement is now available exclusively in Bangkok for women looking for a non-surgical breast enhancement. CAL Breast is not available in Phuket and requires a minimum 1 week.
We are please to offer the ONLY Genuine Stem Cell Enriched Fat Grafting Protocol in Thailand. The technique uses your very own (autologous) stem cell rich bodyfat. CAL is performed on an outpatient basis and takes between 3 and 6 hours from prep to discharge with only minimal aftercare required afterwards. The treatment can be done via local anesthesia but general is often used when doing multiple areas. Your bodies curves and silhouettes will be optimized without any synthetic materials such as saline or silicone in a simple 3-step process.
Stemcell Enriched Fat Grafting Surgery Overview
Step 1: Mini-Liposuction– The fat and stem cells are first gently removed from the abdomen or thigh areas only using a proprietary method licensed from Dr Yoshimura in Japan. (The inventor of CAL). Our technique uses a very precision based manual technique that require NO mechanical lipo devices such as vaser or Smart Lipo. The fat can be successfully and safely be removed using genuine micro-cannulas to avoid damaging or destroying the stem cells that occurs when using  Vaser or  other smart laser liposuction ( smart lipo costs) methods.
Step 2: Stem Cell Enrichment & Processing-The carefully extracted adipose "fat" tissue and stem cells are then separated in a dedicated multi-million dollar closed-system stem cell lab in Bangkok. Unlike stem cell breast treatments in the US or Europe that do not expand/grow stem cells the treatment protocol our doctors in Bangkok use calls for proper expansion/growth of your stem cells in the lab before treatment to allow for the highest possible retention rates for the best overall results .
Waiting Area
Private Stem Cell Lab
CAL Treatment in Bangkok
Treatment Room #2
Closed System Operating Room
Waiting Area
Treatment Room #3
Private Stem Cell Lab
Treatment Room #3
Step 3: Implantation into The Breasts– The enriched stem cells are reintroduced strategically back into the breasts from multiple areas. The
RETENTION RATES Comparison
Stem Cell Fat Grafting vs Fat Injections vs Hyaluronic Sub-Q

Transplanted stem cells and fat combination used in Thailand is able to deliver more sustainable results when they are combined with CD34+ and Progenitor cells. These powerful stem cells inside your body help recruit new cells to become fat cells that grow into a much larger and natural breast tissue.
****Please Note That Not Everyone is an Ideal Candidate for Stem Cell Breast Augmentation. Women with a Low BMI and Body Fat in The Abdomen and Thigh Areas May be Not Qualify and Refused Treatment. Please Contact Us Before Your Planned Trip Thailand To Avoid Any Unexpected Treatment Delays or Refusals.
CAL Cell Assisted Lipotransfer Pre-Qualification – BMI CALCULATOR
CAL Breast Enhancement Risks:
The stemcell breast augmentation surgery is a very safe and minimally-invasive solution for women looking to increase their bust sizes naturally. Unfortunately not everyone qualifies for CAL and Stem cell breast enlargement surgery. Women with not enough body fat or Low BMI in the right areas do not qualify for this treatment. Our surgeons can modify the stem cell protocol depending on you patient and your unique needs. These custom modifications allow for our doctors to achieve dramatic improvements in the overall results and prices using stem cells and body fat for permanent breast increase, but this treatment is just not effective if you do not have enough body fat in the abdomen or thigh areas where the majority of useful stem cells reside.
I am a nurse in Taiwan and looked at this stem cell procedure in detail. My results have been amazing. It looks at feels 100% natural and my husband absolutely loves it. I highly recommend it.– Sherryn T, Taiwan, China

Ive came across other doctors who claim they are doing similar procedures, but no one has shown the knowledge of the science like Thai Medical Vacation. Its been 10 days since my Mini-Cal and my results are pretty dramatic.–Michelle N, Singapore

I just wanted to find a natural way to feel good about my cup size. CAL was just what I was looking for! Jamie at Thai Medical helped me find a permanent solution without leaving any scars.–Alexsandra S, Mardrid, Spain

I had the Full CAL procedure about 4 months ago because I just didn't want implants that would require a surgical procedure. The results have been amazing. My breasts feel so natural. I quite happy with my trip to Thailand.–Lorraine, Miami, FL, USA

I have always been small chested, barely filling a B cup and often thought about "one day", getting a breast job. Since i've been breastfeeding my three kids, I basically had nothing left..I felt incomplete for about 13 years now and dreamed that one day, this time will come. 290cc's later my day came.. Thai Medical Vacation made the entire process easy.–AngiesMom, Kissimmee, Florida
CAL in Thailand – Before & After Pictures
The final results of having GENUINE CAL fat engrafting in Thailand are simply fantastic.  Your newly enlarged breasts will feel and look 100% natural in any position or posture. Unlike breast enlargement with saline or silicone, CAL Stem Cell Breast gains in size and volume are not unnatural or artificial but natural thanks to your own stem cells,unwanted body fat and breast tissue.

Autografting Fat to Increase Profile & Lift


Correction of Silicone Implants using CAL

Stem Cell Breast Augmentation Cost
Please note lean people (low BMI) may not qualify. To pre-qualify please contact us via our contact form below. The price of Stem Cell breast will also depending on the needs implant removal along with the total breast size/volume desired. Thai Medical offers 2 types of enhancements including:
MINI Cell Assisted Lipotransfer Enhancement – For women with low BMI / Bodyfat
FULL Cell Assisted Lipotransfer Enhancement – For Larger Cup Size Needs
Some patients also have the ability to combined CAL Breast with CAL Stem Cell Facelift at a more attractive price. The total costs provided will include all your medical related expenses including the surgery fees,doctor fees, anesthesia fees and any operating room or hospital fees. The procedure does not require overnight stay unless you decide on multiple treatments  in which case overnight stay will be provided. Don't forget to also visit our Cosmetic Stem Cell FAQ section for regularly asked questions about the 100% Natural Stem Cell Breast Enlargement in Thailand.
"Your Journey of a Thousand Miles Starts with A Single Step"