UPDATED – January,2015 – While most holiday makers try to stay out of hospitals while on vacation, a large number of tourists do the exact opposite as medical tourists. Medical tourists are normal everyday men and women who combine the excitement of international travel with medical care. Treatments can range from simple laser teeth whitening and bodytite liposuction to complex treatments such as hair restoration, cosmetic surgery, total artificial knee replacements, hip replacements, heart surgery and non-surgical stem cell therapies. From elective surgery to needed surgery,cosmetic, fertility to dental treatments, Thailand offers nearly every medical treatments available anywhere in the Best hospitals in the world.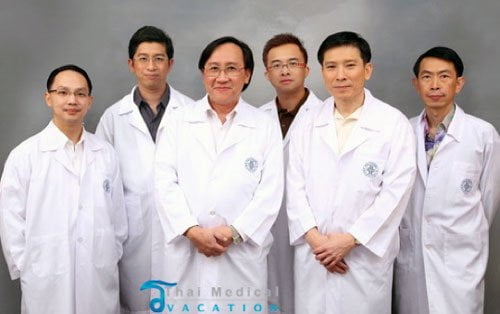 More than 75% of all medical tourists worldwide travelled to Thailand, Singapore or India in 2013. Bangkok and Singapore are the leading destinations in South East Asia. The cost of accommodations such as hotel rooms and treatments are generally much more expensive in Singapore than Thailand,thus making Bangkok the most popular destination for medical tourists in the World. Despite the recent political protests, nearly 28 million tourists visited Thailand in 2013. Thats nearly a 22% jump from 2012. Thai Medical research estimates that over 910,000 of those visitors came to Thailand specifically for medical care primarily in the cities of Bangkok, Phuket and Pattaya.
A recent survey by Thai Medical Research shows that there are about 0.5 doctors and 2.9 hospital beds for every 1000 people in Thailand in 2013. Measured in terms of PPP or purchasing power parity, each Thai resident is was estimated to have spent 13,347 Thai Baht or USD $408 on health care. Cumulatively, the spending amounted to 5.5% of the country's gross domestic product or GDP of Thailand. This amount spent on healthcare can be divided into two sections.
Public Sector vs Private Sector
Public sector expenditure in 2013 (52.5%)
Private sector expenditure 2013 (47.5%)
In comparison to our data, The WHO (World Health Organization) states that the Thai government's investment on healthcare in 2012 amounted to
Public sector expenditure in 2012 (57.5%)
Private sector expenditure 2012 (42.5%)
Thailand has been able to overhaul it's entire healthcare system through their universal health coverage system that was adopted in early 2001. Thailand became the first non G-8 nation to implement such a comprehensive healthcare system overhaul. The UC or universal care system replaced the previously designed system primarily to help bring better access to the millions of lower income earners throughout the country.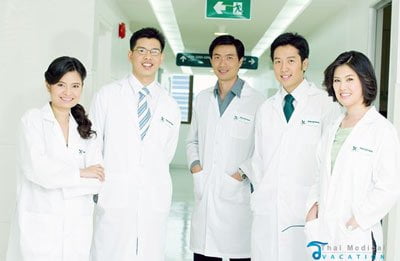 Thai Hospitals For Modern Health Care
The making of an internationally renowned healthcare destination is very complex. Some of the primary factors include:
• Broad Industry wide commitment to international accreditations, quality assurance, and transparency of results and outcomes
• Consistent Adoption of International best practices with cutting-edge medical technologies
• Rich History of Healthcare Innovation and Achievement
• Joint Government and Private sector Investments in the Healthcare Infrastructure
• Reputation for specialty excellence
• Availability of internationally-trained and experienced medical personal
• Potential for cost savings
• Consistent International patient flow
• Ease of access to tourism infrastructure
Thailand's reputation for graceful and attentive service coupled with the rigors demands of western accreditation have helped play a vital role in building a positive international reputation and confidence in the Thai Medical System. Samitivej Hospital Bangkok and Bumrungrad International Hospital were amongst the first Southeast Asia's recipients of the prestigious Joint Commission International (JCI) certification from the United States. The JCI seal of approval is seen as the gold standard for healthcare service providers around the globe. Today, Bangkok has no less than nine JCI-accredited hospitals for medical holiday makers to choose from. At last update (January 2015) ,Thailand has 45 JCI accredited and certified facilities. Other factors such as reasonably-priced hotel rooms and the Ultra-modern Suvarnabhumi Airport,reliable public transportation and quick 30-day visas for most nationalities upon arrival all help to make Thailand a preferred destination for visitors from Australia,North America and Europe.
Thailand Hospitals List 2015
The following list is a the most comprehensive directory listing of public and private hospitals in Thailand. Our research for this list was completed on October 2012, there are nearly 1,007 public hospitals, and 341 private hospitals that are currently registered with the Thai Public Health Ministry's Medical Registration Division located in Bangkok.
Public,Private and Military Medical Centers in Thailand
| Hospital Name | Operation Partnership | Type | Province | Beds |
| --- | --- | --- | --- | --- |
| Klang Hospital Metro Bangkok General | Metro Bangkok Administration | Private | Bangkok | 418 |
| Metro Bangkok Hospital Lat Krabang | Metro Bangkok Administration | Private | Bangkok | 40 |
| Bhumibol Adulyadej Hospital | Military Hospital Air Force | Military | Bangkok | 784 |
| Burachat Chaiyakorn Hospital | Thai Railway Administration | Private | Bangkok | 132 |
| Central Correctional Hospital | Ministry of Justice | Private | Bangkok | 330 |
| Women's Central Correctional Medical Center | Ministry of Justice | Private | Bangkok | 46 |
| Charoenkrung Pracharak Hospital | Metro Bangkok Administration | Private | Bangkok | 427 |
| Chulabhorn Hospital | Research Institute Chulabhorn | Specialized | Bangkok | 110 |
| Galaya Rajanakarindra Institute | Mental Health Department | Specialized | Bangkok | 340 |
| Health Promotion Hospital, 1st Region | Department of Public Health | Primary care | Bangkok | 60 |
| Hospital for Tropical Diseases | Mahidol University | Specialized | Bangkok | 260 |
| King Chulalongkorn Hospital of Dentistry | Chulalongkorn University | Specialized | Bangkok | 50 |
| Institute of Dermatology | Medical Services Department | Specialized | Bangkok | 53 |
| King Chulalongkorn Memorial Hospital | Thai Red Cross Society | Teaching | Bangkok | 1443 |
| Lerdsin Hospital | Medical Services Department | Private | Bangkok | 538 |
| Luang Pho Taweesak Hospital | Metro Bangkok Administration | Private | Bangkok | 70 |
| Medical Correctional Institution | Ministry of Justice | Private | Bangkok | 60 |
| Metropolitan Electricity Authority Hospital | Metropolitan Electricity Authority | Private | Bangkok | 130 |
| National Cancer Institute | Medical Services Department | Drug rehabilitation | Bangkok | 210 |
| Naval Bangkok Hospital | Thai Royal Navy | Military | Bangkok | 240 |
| Naval Ordnance Hospital | Royal Thai Navy | Military | Bangkok | 32 |
| Nopparat Rajathanee Hospital | Medical Services Department | Private | Bangkok | 520 |
| Phramongkutklao Hospital | Royal Thai Army | Teaching | Bangkok | 1246 |
| Police General Hospital | Thai Royal Police | Military | Bangkok | 746 |